Don't know much about Phoenix Influencers? Well this is the week to network than my friend. Many great events in store this week including Collectivo's New Influencers event, Startup Grind featuring Cristine Vieira of Find Your Influence and more. Don't miss out on learning about the power of influencers; hope to see you out there!
Tuesday 5/17, 6:00pm – 8:30pm (Education & Networking): Startup Grind Hosts: Cristine Vieira (Find Your Influence). The Co-Founder of Find Your Influence (FYI), built a career through integrating marketing and business strategy across digital and social media channels. With the exponential growth in the social and influencer marketing space, she launched FYI in 2014 to help brands and agencies make their influencer campaigns measurable, scalable and profitable. FYI is now one of the leading SaaS Influencer Marketing platforms connecting brands such as V8, Tylenol, Budweiser, Delta and H&R Block to high impact influencers. FYI has been featured in the Huffington Post, USA Today, Forbes and Entrepreneur.  Coplex – 688 W 1st St, Ste#2, Tempe. Admission: $25
RSVP: https://www.startupgrind.com/events/details/startup-grind-phoenix-presents-cristine-vieira-find-your-influence#/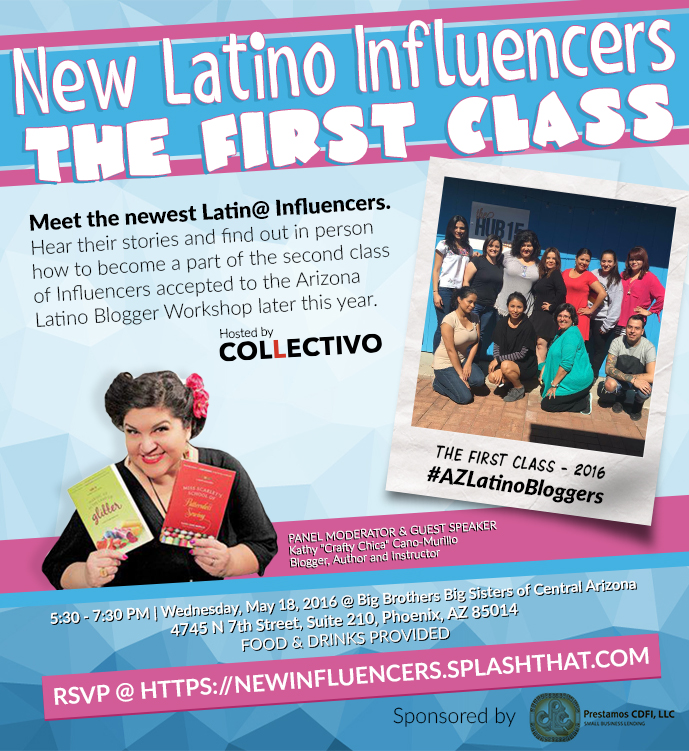 Wednesday 5/18, 5:30pm – 7:30pm (Education & Networking): New Latino Influencers: The First Class. Last year Collectivo had a record-setting attendance at the Successful Latina Influencers event. Following this event, Collectivo created the first Latino Blogger Bootcamp and signed up the 1st class. Join us to welcome Collectivo's first 6 graduates from the Arizona Latino Blogger Workshop as they share their blog creations. Hear their stories and find out in person how to become a part of the 2nd class of Influencers later this year.  Big Brothers Big Sisters of Central Arizona – 4745 North 7th Street, Suite 210, Phoenix. Admission: Free! 
RSVP: https://newinfluencers.splashthat.com/
Thursday 5/19, 7:30am – 9:00am (Education & Networking): Mayor Stanton's Coffee Shop Stop. Please join Mayor Greg Stanton and Councilmember Daniel Valenzuela for a coffee talk. This is a great way to find out the latest news from the city as well as ask questions about your neighborhood and the City of Phoenix. Coffee is on them! Chicanos Por La Causa Maryvale Community Center – 6850 W. Indian School, Phoenix. Admission: Free! 
RSVP: No RSVP required.
Thursday 5/19, 5:30pm – 7:30pm (Education & Networking): 4Under40 Networking Reception. Join us for a networking reception and panel discussion hosted by New York Life, ALPFA Phoenix and NSHMBA to celebrate the achievements of four inspiring young Latino professionals in our community. Enjoy the beautiful setting of the Arizona Latino Arts and Cultural Center, appetizers and beverages. Arizona Latino Arts and Cultural Center (ALAC) – 147 East Adams Street, Phoenix. Admission: Free! 
RSVP: https://www.eventbrite.com/e/4under40-networking-reception-tickets-25106961598
Thursday 5/19, 5:30pm – 7:30pm (Education & Networking): May Get Your PHX at Palabra. We are excited to explore Palabra Collective this month with owner Jorge and invite you to come and see inside their new incredible space! Palabra Hair. Art. Collective – 909 N. 1st St., Phoenix. Admission: Free! 
RSVP: http://getyourphx.com/may-get-your-phx-at-palabra/