Happy New Year! Hope you're email box is well on it's way to Inbox Zero. Get ready to put your networking shoes back on this week, find our favorites below. As always, hope to see you out there!
Tuesday 1/5, 9am – 10:30am (Education & Networking): Social Media 101 – The Basics of Social. This presentation is a guide for small businesses or nonprofits who have been using social media marketing, but need some tips to take them to an intermediate level and/or add new channels to their marketing efforts. Maricopa Community Colleges – 108 N. 40th St, South Building (SO), Phoenix. Admission: Free! 
RSVP: https://clients.azsbdc.net/workshop.aspx?ekey=10360003
Tuesday 1/5, 6pm – 8pm (Education & Networking): The Power of the Inbox: Tips and Tricks for Successful Email Marketing. What is the first impression you give when they see you in their email inbox? And when they see you there, what do they do? This powerful seminar takes you step-by-step through the keys to effective email marketing. Dillons Restaurant – 20585 N. 59th Ave, Glendale. Admission: Free! 
RSVP: http://asba.site-ym.com/events/event_details.asp?id=751768&group=
Wednesday 1/6, 11:30am – 1:00pm (Education & Networking): Local First January Lunch Mixer. Join Local First Arizona as we celebrate our first lunch mixer of 2016 at Pho 602 in Phoenix. Local First Arizona lunch mixers are openonly to current members. Enjoy incredible Vietnamese dishes while you catch up with local business members from around the Valley. Pho 602 – 6135 N. 35th Ave, Phoenix Admission: Members Only, pay for own lunch.
RSVP: https://xg112.infusionsoft.com/app/page/default-campaign-landing-page50
Thursday 1/7, 11:30am – 1:00pm (Education & Networking): Lunch & Learn: How to Survive in the App Economy. You can call it "The Consumerization of Enterprise Software," we call it the modern way to build technology products that win in the marketplace. And, it is something companies of all sizes should be thinking about. Appointment Plus – 15300 N 90th Street, Suite 100, Scottsdale. Admission: Members Free, Non-members $15.
RSVP: http://www.aztechcouncil.org/event/lunch-and-learn-how-to-survive-in-the-app-economy/
Friday 1/8, 12:30pm – 2:00pm (Education & Networking): Get Started with Email Marketing – A Live Guided Demonstration. Twanda Hill will present this live, guided demonstration on the tools and features inside Constant Contact's Email Marketing. In this time-efficient, highly practical 90 minute session, you will learn the basics so you can get going with your own marketing. It's a relaxed, friendly educational session — bring your questions! Denny's Restaurant (Private Room) – 5161 W. Thunderbird Rd, Glendale. Admission: Free!
RSVP: http://asba.site-ym.com/events/event_details.asp?id=751657&group=
Friday 1/8, 3:00pm – Ongoing (Entertainment): College Football Playoff Fan Central. A multi-day fan festival that gives thousands of fans the opportunity to be a part of the College Football Playoff National Championship experience, with appearances from the participating institutions' bands, cheerleaders and mascots and mini pep rallies for each participating team.
Phoenix Convention Center – 100 North 3rd Street, Phoenix. Admission: $5-$12.
RSVP: http://ht.ly/WCyAs
Featured Event on January 20: Latino Journalists Panel: Perfecting Your Pitch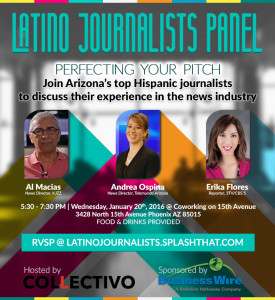 Phoenix Networking Events brought to you by Coworking on 15th Ave.